How to lose arm fat? 4 best exercises to get toned arms fast.
A lot of us get started on their quest to lose weight everyday. Most of us have no idea where to start. We assume that exercising a lot will burn all the fat in our body and turn us into a model overnight. What we don't know is, how different types of exercises can help us focus on different parts of our body. We want to see results fast. And more importantly, we want everyone else to see them. Deep inside, all of us crave attention for the hard work we're doing. And I can't really blame you. Its good to be complemented when you're trying to lose weight because it motivates you keep pushing forward towards the physique you've always wanted.
Why lose arm fat?
What better to attract attention from your peeps, than losing arm fat? Nowadays, most men run around in half-sleeved shirts and some, shirtless even. Forget the men in suits. And women try to show as much skin as possible. But what everyone has in common, is that our arms are showing; if not the upper arms, then at least the forearms. And more often than not, people notice easily if your arm gets bigger or skinnier, when you're exchanging stuff, shaking hands or using gestures while speaking. And they'll immediately ask you about your diet and your fitness if they see toned arms. Who wouldn't? So, let's see take a look at the best exercises if you want to know how to lose arm fat, to make you look good in front of your peeps and get showered with complements.
How it works
Before we tell you about our 4 best exercises to get toned arms fast, you need to know how fat loss process works. Fat accumulates all over your arms, especially in your upper arm. So, in order to burn it all, we need to target each region of your arm individually – Wrist, Forearm, biceps, triceps and deltoids which are, in essence, your shoulder cups. All of our exercises will be done using just a pair of dumbbells, 1-5 kilograms each. Men assume that just lifting heavy dumbbells will replace their arm fat with muscle. That's not how it works. First, you have to burn out your arm fat. then, you can do some bulking. 
How to lose arm fat? 4 best exercises to get toned arms fast.
Exercises to get toned arms
Wrists and Forearms
Not much fat settles in our wrists, usually. And it is pretty easy to burn because we are unconsciously burning wrist fat everyday just by doing simple chores that involve movement of our wrists. But if you want to speed up the process, there's something you can do about it. One popular gym exercise that combines both wrist and forearm building, is dumbbell wrist curl.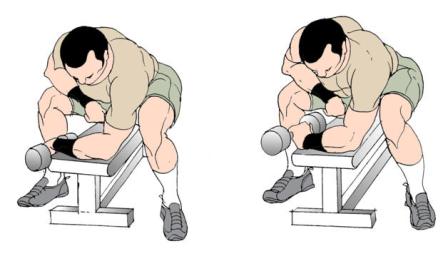 Sit down on a bench and place your arms across the width of the bench and make sure your wrist sticks out a little while you're holding a dumbbell in your hand, with your palm facing downwards. Now twist your wrist upwards, lifting the dumbbell up till and then slowly lower it back down again. This is called a rep. Do anywhere between 10-100 reps with each arm and make sure it's the same number of reps on both arms.
One other variation of this exercise is with your palms facing upwards. This too, should be done, 10-100 reps for each arm.Repeat the exercise 3-5 times everyday with 90 seconds rest in between.
Biceps
One of the best biceps exercise, that anyone who goes to the gym will tell you, is dumbbell bicep curls. Bicep curls is one of the fundamental exercises in bodybuilding and aesthetic fitness. It's the best exercise for burning fat in your biceps area.
Stand with your spine erect and your legs shoulder-width apart. Hold the dumbbells in your hands with your palms facing your hips on either side. Slowly lift one dumbbell while slowly curling your wrist till your palm faces your bicep when it reaches maximum compression point. Then, slowly lower the dumbbell while curling your wrist again to reach the original position to face the hip again. Next, repeat the same with the other hand. 1 movement with each hand is one repetition. Do 10-50 repetitions of this exercise and repeat this exercise 3-5 times everyday, with 90 seconds rest in between. More repetitions each time you do the exercise will have a greater effect on your arm.
Triceps
Our triceps comprise more than 60 percent of our arm. And more fat accumulates in the triceps region than any other part of the arms, so they're the hardest to train.
Standing Dumbbell triceps are the way to go. Stand erect, legs shoulder-width apart and start by holding a dumbbell with both hands above your head. Slowly lower the dumbbell to the back of your head while making sure your elbows are in the same position and don't move away from the sides of your head.And lift the dumbbell back up to the top again.
Repeat 10-100 times and repeat the exercise 3-5 times everyday with 90 seconds rest in between.
Deltoids
One particular shoulder exercise that targets the whole arm, is the dumbbell shoulder press. Sit on a bench with your spine erect and hands up on either side of your shoulders with your upper arms in line with your shoulders and your forearms upwards with dumbbells in either hand, palms facing upwards. This is your starting position. Slowly lift the dumbbells up till your arms are straight upwards and slowly return the dumbbells to the starting position.Repeat 10-100 times and repeat the exercise 3-5 times everyday with 90 seconds rest in between.
Make sure to keep using lighter weights and do not use dumbbells with weights upwards of 5 kilograms each because your focus first needs to be on fat loss after which, you can try to make your arms a muscular.
Thanks for reading through our article, How to lose arm fat? 4 best exercises to get toned arms fast. If you've enjoyed this, you could give us a thumbs up by sharing this on your favourite social network. That would help us out a lot. Got something to say? We'll be hanging out in the comments section below. And if there's any query you have or any topic you want our opinion on, our experts can be found in the 'Contact Us' section up top. Have a great day ahead. Cheers!