OnePlus 2 Full Review: Flagship Killer?
For start-up with very little experience and only two devices to its name, OnePlus have been doing quite well for themselves. When they announced an invite system for their first device, the OnePlus 1,(which, for some reason in my head, adds up to the number 2), it got people talking. Everyone wanted to know that this thing was, that could only be bought with an invite. So, contrary to critics' claims, the Oneplus One did quite well for itself. And to build up on the success of the OnePlus 1, or rather, the 2, this bodaciously ambitious smartphone manufacturer has released their next iteration, the OnePlus 2, which again, I can't help but add up in my head, to 3; no pun intended. The most surprising aspect for the OnePlus Two, however is the company's claim that it is a flagship killer. If you're anything like me, you'd go, 'Is it really?'. Well, let's take a look.
OnePlus 2 Full Review :-
Here we are discussing about the great features of oneplus 2 smartphone and we are happy with the performance of one plus 2 mobile but not highly satisfied. Read our oneplus2 full review to understand more about the best features and specifications of this mobile.
https://youtu.be/1dKpwsSLKqA
Design
Starting off with design, the OnePlus 2's outer frame is crafted from a resilient alloy of aluminum and magnesium and on the front, you have the display with a small dent at the bottom, which is the fingerprint sensor, and a small speaker grill near the top. But the best part of the front is the fact that it doesn't distract you with fancy speaker humps or protruding hard keys. It's just a slab of black glass. Which is very appealing.
Also Read :- Should You Upgrade To iPhone 6 (Or) 6S ?
On the left, there is an alert slider, which is quite brilliant, I think, because it helps you switch between different modes – All Notifications, Priority Interruptions, and No Interruptions, without having to unlock your device; all the way down for all notifications and all the way up for no notifications. I wish it was the other way around, because that's how I'd expect it to go, as anybody else would too. But I'm quite easy to get used to.
On the right, we have both the power and volume buttons, which is quite odd, because it's initially quite hard to distinguish one from the other without looking but it all grows on you so, no worries there. Besides, the OnePlus 2 has tap-to-wake, which is very handy and I see myself using that feature quite often.
My biggest beef, though, is with the capacitive touch keys on either side of the fingerprint sensor. I'm not a big fan of the blue backlight they've got going on but the software gives you the option of choosing between them and actual soft keys on the screen, which I quite simply adore because it resembles my LG Nexus 5. Now the fingerprint sensor on the OnePlus 2 can take up to 5 fingers and let me tell you,  it's no slouch. It registers your finger quite fast and it's pretty accurate too. Well, most of the time, anyway. And I'm sure it'll only keep getting better with more software updates.
Coming to the back of the device, let me first say that uni-body design is quite the buzz among flagships these days so, when OnePlus decided to stick to removable back covers, I was quite surprised. But hey, Motorola does that too, and you don't see people ranting about it. You can remove the back and swap it for another one from an array of back covers offered by OnePlus to give your device a new look. This, however, doesn't give you any access to expandable storage or the battery but there's a dual sim slot inside that you could fiddle with. The curvature of the back is a little similar to that of the Moto X or the Moto Nexus but its texture, coupled with the fairly high weight of the device and the metal frame makes you feel more secure while holding it and there's no hump on the camera, like we see in the iPhone 6 or the Samsung Galaxy S6, so you don't have to worry about the camera getting scratches on it.
At the bottom, you have the USB type-C flanked by two grills on either sides. Only the right grill is a speaker grill and audio is the biggest failing of the OnePlus 2 as it's not quite good. It's not very loud either, and you could easily cover it up with your hand while using the device, so that's one problem that can't be rectified even with software updates. The USB type-C port too, although very thoughtful of OnePlus to have been included, has its own quirks. For one, it doesn't have fast charging, so it takes a while to charge the huge 3300mAh battery, but battery life is fairly good and it gets you through a day for fair usage so, no issues there. But is doesn't have a power saving mode, so if your phone hits 5% or something, better switch it off. Among other problems, the cable is quite short, so you might need to purchase a longer one for longer reach.
Display
The OnePlus 2 features a beautiful 5.5 inch 1080p Full HD display with 401ppi, which is crisp, sharp and has decent visibility in broad daylight. The subtle front gives you a full, immersive experience and doesn't take it's toll on the battery, considering the fact that it's a HD display.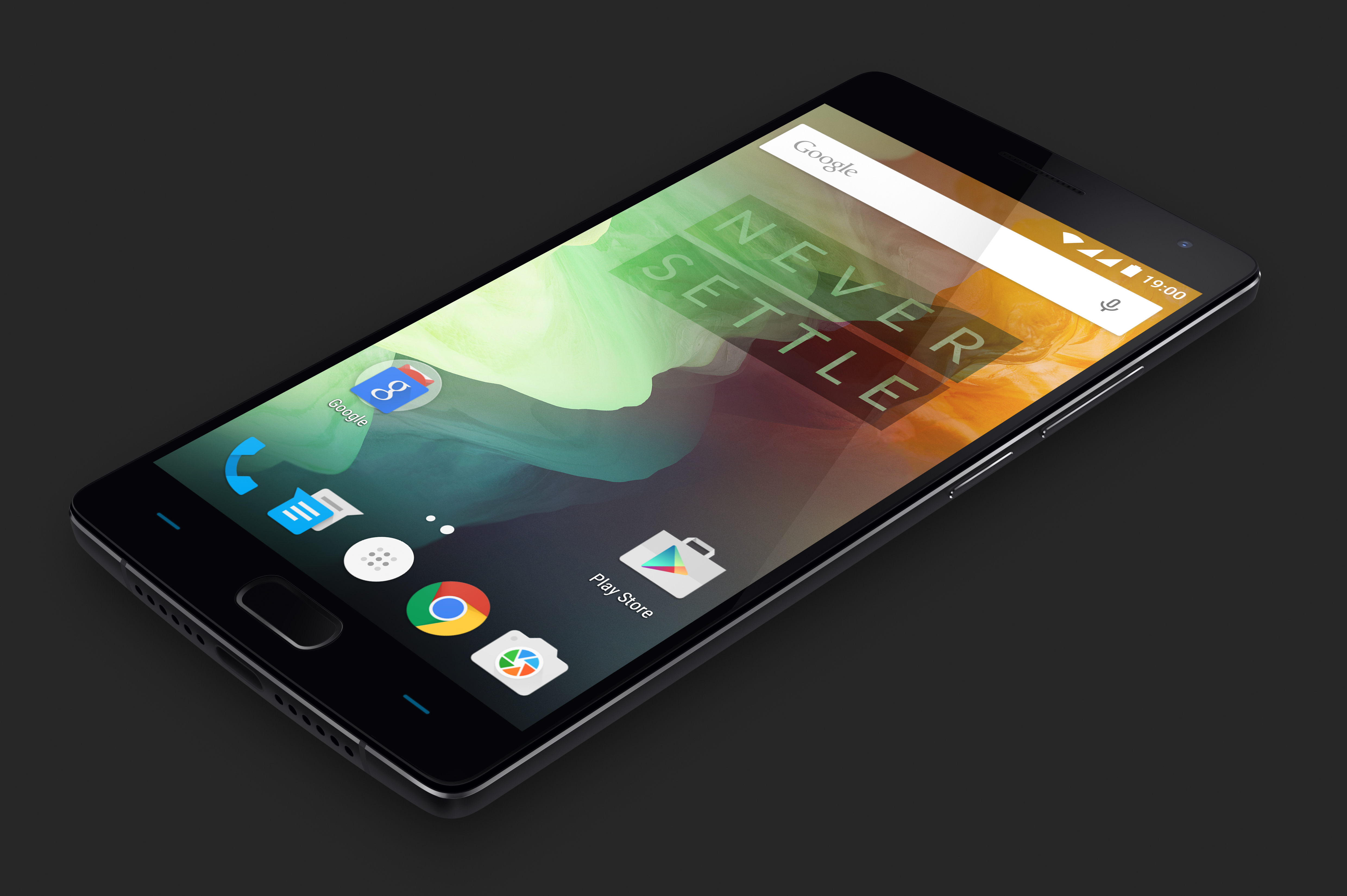 Performance and UI
The OnePlus Two packs a 64-bit Qualcomm Snapdragon 810 processor with 1.8GHz Octa-core and an Adreno 430 GPU and 4 GB/3 GB LPDDR4 RAM depending on the country you're in. These are, from an android enthusiast's perspective, pretty high end specs on paper. These are coupled with OnePlus' Oxygen OS based off of Android 5.1. It has all the customizability you'd want from stock android and it still retains the looks of stock android, so android purists will definitely love the Oxygen OS. The UI is snappy, lag-free and gaming is very smooth. It gives you a ton of customizability options and you can even use a dark theme with different accent colors. You can also remap the taps on the fingerprint sensor to trigger different actions. Oxygen OS also has something called Shelf, which is basically a home screen with your recent apps, favourites, some widgets that you like, and other stuff. I'm interested to see what direction OnePlus takes with Oxygen OS as shows promise for the future.
Now, a common problem with Snapdragon processors is heating. The OnePlus 2 doesn't have any heating issues whatsoever and gaming is very smooth, although, sometimes, the phone throttles in order to keep from heating. One feature that the OnePlus 2 doesn't have is NFC, which frankly I don't need but, most people who use it a lot, especially for mobile payments might find this a deal breaker. There's no wireless charging either, so that's a bummer. The vibration too is quite weak, so it's not so easy to know when your phone vibrates in your pocket and you end up checking it regularly to see if you have notifications.
Camera
The OnePlus 2 has a 13 megapixel camera with Optical Image Stabilization and and 4k video capability. It is holds up quite well against all the flagships and takes some decent photos. It has something called laser-autofocus which is extremely fast and helps you focus quite fast. Here's a camera test review, below.  The front features a 5 megapixel camera which is nothing too fancy and it takes decent shots in broad daylight and like any other 5 megapixel front camera, struggles in the dark.
Storage and pricing
The OnePlus 2 has only 1 variant, a 64 gig model and is priced at $299 (that's what the official site says), the problem being that you can only buy it if you have an invite, which is pretty frustrating but hey, that's what makes the 2 more desirable.
Final Verdict
While the OnePlus 2 may not really be the flagship killer we all hoped for, it certainly is a great phone. Great display, great performance, camera, UI, usability, it really nails the basic fundamentals and has everything you'd need from a good phone.
Is there any feature of the OnePlus 2 we missed? What do you like or dislike about the OnePlus 2? Comment in