What is the fastest android launcher? Top 5 launchers for android
Launchers are all about looks, customization and user-friendliness. They are a way for users to choose what's available to them at a moment's notice or what looks good to them that can also be changed when they want to. It is these small things about android, like icons, add drawers, home screens, wallpapers, fonts and widgets that make android so enjoyable and unique to different individuals. Over the course of time, we've seen many launchers that came along, each aiming for a different genre of users, some for simplicity, some for customization, some security and so on.
If you're reading this, you're probably looking for an android launcher that is blazing fast but doesn't compromise on customizability and is very efficient. Let's take a peek at our top 5 picks for the fastest android launcher out there.
Picks for the Fastest android launcher
1. Nova Launcher
Price:                                Free
Downloads:                      10 million +
Rating:                             4.6/5 (693,584 ratings)
Nova launcher is one of the best third party android launchers of all time and comes with a ton of features. You can customise everything from the icons to the app drawer theme. It has tons of supported themes and icon packs online and for some extra money, you could get the Nova Launcher Prime, which lets you do even more. There are tons of other apps and widgets that can be individually installed and used along with this launcher and it the wide range of compatible applications that Nova has, that makes it the best third party launcher ever.
In terms of speed, the launcher is very fast and is a strong contender for the fastest android launcher; it can be sped up by increasing animation speeds or be switching them off. The only downside is that you have to download third party applications like widgets, icon packs or themes for customization and this slows down the phone due to more stress on RAM.
Updates-wise, the makers of Nova Launcher are doing a pretty good job on it and it gets updates very frequently and every time a new version of android launches, the nova launcher is updated to mimic the official android launcher, so it's pretty updated. If you have a smartphone with a lot of RAM and a high-end GPU, you can use this launcher with all its third party accessories, no sweat.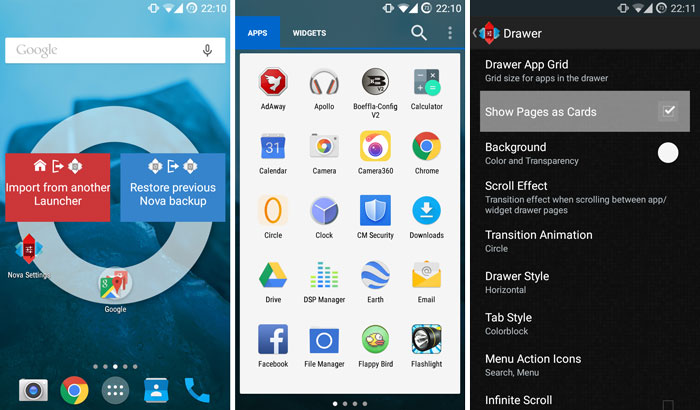 2. Google Now Launcher
Price:                                Free
Downloads:                      10 million +
Rating:                             4.3/5 (543,379 ratings)
Google's stock android is nowhere better seen than its stock launcher. Since the Google Now Launcher is made by Google themselves, it's obviously the fastest android launcher ever. It's snappy, minimal and adorned with Google's material design. A left swipe on the home screen takes you straight to Google Now which holds all the important stuff you'll need everyday like news, weather, flight schedule, reminders and calendar notifications. On all the home screens, you can add widgets from all installed apps that have widgets, and other third-party widgets too. The app drawer is vertical with no customization and an annoying white background which slowly grows on you, so that's no big deal. But it was built this way to make it fast and snappy.
The Google Now Launcher is best known for its speed and snappy interface. But all this comes at a price. It has no support for third-party font packs or icon packs and you cannot modify the tiny details like icon sizes, app drawer theme or even sear bar size. Updates wise, the launcher gets very updated very frequently; more so than any other launcher, so that's a pretty big deal. If you're someone looking for simplicity and a fast UI, this is the one for you. Just make sure you have another launcher that you can use in case you get bored with this one. Download it to and tell us if you think it's the fastest android launcher out there.
Check out our Top slow motion camera android apps on Google Play Store.
3. EverythingMe Launcher
Price:                                Free
Downloads:                      10 million +
Rating:                             4.5/5 (408,357 ratings)
EverythingMe is a very minimalistic app launcher created with accessibility in mind. It is a strong contender for the faster android launcher ever because of its simple UI that can be customized a lot more than Google Now launcher. You get a quick access contacts screen, instant access to all your apps and the search bar couples as an online and app search bar. There's even a special feed with calendar, Google news, recent contacts and recent apps integrated into it. The launcher, upon installation, groups all your apps for easier access and also includes suggested apps to download in each group.
Coming to updates, the app does get a fair amount of updates and bug fixes from time to time and also supports icon packs and third-party widgets, so that's one point for customizability. It's fairly fast and may not be the fastest android launcher but it's definitely a good looker. The only criticism I'd have for this app would be the lack of a dedicated Google Now home screen.
Download it to and tell us if you think it's the fastest android launcher out there.
https://youtu.be/Fz0xdBCFKv4
4. Smart Launcher 3
Price:                                Free
Downloads:                      10 million +
Rating:                             4.4/5 (420,884 ratings)
Smart Launcher 3 was made, keeping in mind, users who are not so obsessed with customization and focus mainly on accessibility and speed. It has a single home screen with a circle of icons in the middle which you can edit or add more. You can also change the theme of the home screen, but that's where the customization ends. There is an app drawer which intelligently separates all your apps into groups like games, web browsing, etc.
The app is updated frequently but there is a downside. The UI sucks. Lemons. I'm not a big fan of the themes either. I get the makers' idea for simplicity but it wouldn't have hurt to go with material design or at least something flash. This launcher looks a little too childish. But its pretty fast (fastest android launcher contender), so I can live with the bad looks. But I still can't help but feel insecure about the name. Smart Launcher '3' ? Will I see Smart Launcher 4 in the future? If so, it'll be really irritating to download that and delete the current one, no matter how hassle-free it might be. Download it to and tell us if you think it's the fastest android launcher out there.
Check out our 10 Best smartphones under ₹15000 In India.
5. Hola Launcher
Price:                                Free
Downloads:                      100 million +
Rating:                             4.5/5 (2,046,369 ratings)
Hola Launcher is quite a good launcher which looks like MIUI and performs quite as fast as MIUI. The UI is pretty simple, no app drawer, but smart folders like in Smart Launcher 3 and 3D themes, transitions with third-party icon packs supported. It also has a quarter circle mini-launcher with all your recent apps, frequent apps and notification bar toggles integrated into it. This can be used by swiping in from the bottom left. There's even an in-built task killer to free up RAM. I'm not so sure about its efficiency, though. There's a news feed on the left of the home screen, called holazine, which has the top news from all around the world and apart from this there's nothing much to say about the launcher.
It's basically a simple, intuitive launcher, like Smart launcher 3, built with the busy users in mind, who need basic features like messages or dialer on one tap and stands fifth in the race for the fastest android launcher. Updates-wise, the launcher seems to be regularly updated, and I haven't experienced any bugs in it, during my experience with it, and the only downside, I'd have to say, is the hola search, which installs separately and is needed for the app. Not a big deal, but I don't like my launcher having extra baggage, if you know what I mean. Download it to and tell us if you think it's the fastest android launcher out there.
Thanks for reading through our article, What is the fastest android launcher? Top 5 launchers for android. If you've enjoyed this, you could give us a thumbs up by sharing this on your favourite social network. That would help us out a lot. Got something to say? We'll be hanging out in the comments section below. And if there's any query you have or any topic you want our opinion on, our experts can be found in the 'Contact Us' section up top. Have a great day ahead. Cheers!
Get Latest Updates To Mailbox
Join our mailing list to receive the latest news and updates from our team. We send you all the latest health tips, technology tips and many other awesome tips.