Consumer's Perspective Of Android 6.0 Marshmallow
Google first announced Android 6.0 a while ago and ever since, there have been developer previews, leaks and pictures showing the next iteration of android M, so everybody has, by now, at least a basic idea of what android M looks like. To tell you the truth, it's still Android L, with a few improvements. If you own a Nexus 5,6,7 or 9, you might see a few changes here and there. But before you upgrade, are you really sure it's worth it? Let's find out.
Let's take a look all the new changes that Android 6.0 Marshmallow brings to the world of android:
1. App permissions
First off, app permissions. You can now choose what features of your phone, your individual apps can access. For example, you can go into settings and choose whether to allow your Facebook messenger to access your location, or photos, etc. This can be done for individual apps, so by doing this, google has granted more access to the users to the handling of their data on their devices.
2. Chrome Custom Tab
Remember how your device would open up Google Chrome just to open a link from another app which you using at that time? That would consume more RAM because opening the Google Chrome app and closing it to go back to your previous app was, although not that big of a deal, affecting the performance of your device. The folks at Google have figured out how to integrate Chrome into your apps so that every time you see a link in your apps that you want to open, Chrome automatically opens something called a 'Chrome custom tab' that matches your app's theme and can even have custom overflow menus and you can share whatever you see in the tab, back on your app seamlessly.
3. Fingerprint sensor
Google has now incorporated fingerprint sensor compatible API into android Marshmallow since most upcoming android smartphones will have fingerprint sensors and will require a compatible software. This is as expected of Google, as a little late, for my taste, as they should have don this last year just in time to rival the iPhone 6.
4. Android Pay
Android Pay is similar to Samsung pay and apple pay, so no surprises here.
5. Battery life and charging
Google claims that Android M's new power saving capabilities could increase the battery life of the current LG Nexus 5 by 30%. The power saving features include something called Doze mode by which, google tries to save all the power that apps running in the background consume while your device is idle, by shutting them down.
Since the new Nexus phones come with USB type-C, android M includes support for fast charging too, as future mobile devices could most likely have USB type-C.
6.Now-on-tap
Now on tap is a pop-up mini-google-search, if you get what that means. What it basically does is, opens up google search every time you hold down the circle soft key at the bottom-center of your screen. It also shows you all kinds of suggestions if your in an app and want to search the meaning of a word you didn't understand or want to call some number you see on the screen or want to see the review of some movie, the name of which, you see on the screen.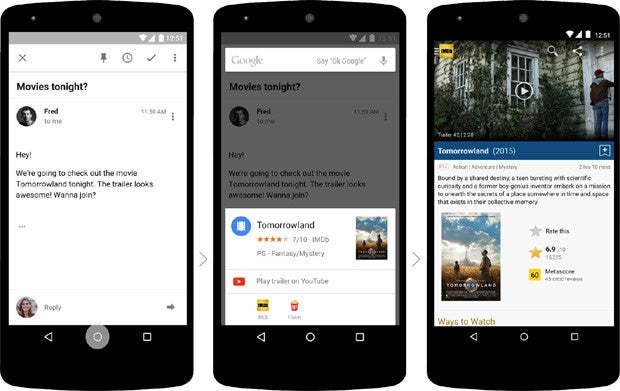 Also Read :- Does Upgrading To iPhone 6S Is Worthy ?
7. Minor UI changes
Google has already shown us all the UI changes that can be expected in the final version of android M, through their developer previews, except for the dark theme which, for some unknown reason, will not be sticking around in android 6.0, Google said.
For starters, the notification bar icons can be fiddled with, so you can choose what to include, what not to and you can add a few others, as well. A trick, I'm sure Google picked up from Samsung, which inevitably, copied from Apple.
Google search has see tons of changes over the past few months so there is no telling what it will look like in a few months time, as android revolves around Google now and Google now is ever changing.
How do I get Android M?
Google has released the final factory images of Android M for its nexus devices. Open the link below
to download them.
https://developers.google.com/android/nexus/images?hl=en
Here is our detailed review on Android 6.0 Marshmallow (M) and please do let your review by dropping your comments below. We are looking forward to read some other user opinions.!!